Author Mary Woodbury, who outlined some of the common ground that helps 'define' eco-fiction in Part 1, looks at how this super-genre has grown and diversified in recent years. Her story returns to a family trip to Ireland.
---
2,360 words: estimated reading time 9.5 minutes  
---
You can read part 1 of A History of Eco-fiction here.
***
Eco-fiction may have become popular decades ago, but it has not gone away. It is evolving. When reviewing the recent novel Borne, by Jeff VanderMeer, for the New York Times, Wai Chee Dimock stated in There's No Escape From Contamination Above the Toxic Sea, 
"This coming-of-age story signals that eco-fiction has come of age as well: wilder, more reckless and more breathtaking than previously thought, a wager and a promise that what emerges from the 21st century will be as good as any from the 20th, or the 19th."
The Canopy Expands
The world seems less and less hopeful. So many crises exist now that it's hard to wrap our heads around them. We are reminded in the news, every moment and every day, of school shootings, shaky politics, poverty, starvation, refugee crises, murder, racism, rape, sexual harassment, and hate. Authors take these issues into consideration when building stories, and some of the biggest crises (which don't necessarily make their way into the news: climate change, extinction, and dwindling wilderness and biodiversity) are subjects making their way into plots, world-building, and tension among characters. We haven't seen anything like our world before. We imagine the wilderness so that we can hang onto what's left. We want to write about our world before its best parts are gone. In fiction, there is desperation to cling to unlogged forests, clean oceans, sparkling rivers, vast deserts, and even just backyard ecosystems that mesmerize us. I have sat at a lake in the mountains of British Columbia watching minnows for hours, amazed.
I run a  monthly spotlight on authors who explore climate change in fiction, and have had many interesting discussions. One was with John Atcheson, who stated:
"I think fiction still has an important role to play in defining the zeitgeist of an era. What I find fascinating is the plethora of dystopian works in film and fiction. I believe they are both a reflection of the times we're in, and a creator of them. By which I mean, there's a vague sense of dread, even among those who don't acknowledge climate change, and dystopian stories allow them to grapple with their fear. Actually, I think the dread goes beyond climate change. The institutions and the disciplines we used to rely on are in disrepute so there's an inchoate sense of doom … hence the other phenomena in film, and in graphic novels, The Super Hero."
Here is the gist: fiction plays an important part in helping readers grasp large concepts that are simply numbers and bytes in the news. Good storytelling, which is not didactic, is an art form that allows the reader to not just escape but reflect, care, and cope. Stephen Siperstein, who contributed poems to Winds of Change, an anthology of stories about climate change that I published in 2015, said that many do not give climate change a thought and that there is rampant denialism, skepticism, and "climato-quietism" (Bruno Latour's term for that laid-back attitude that somehow, without us acting, things will take care of themselves). According to Stephen, "This is the 'new normal' of our cognitive and affective lives, and for us to figure it all out, we need help. We need guides and maps. We need emotional resources. In short, we need the literary and cultural arts." Bill McKibben preceded this idea in Grist, back in April 2005: "What the warming world needs now is art, sweet art."
A short note on Dystopia and Utopia



"Both utopia and dystopia are often an enclave of maximum control surrounded by a wilderness — as in Butler's Erewhon, E. M. Forster's The Machine Stops, and Yevgeny Zamyatin's We.



Good citizens of utopia consider the wilderness dangerous, hostile, unlivable; to an adventurous or rebellious dystopian it represents change and freedom. In this I see examples of the intermutability of the yang and yin: the dark mysterious wilderness surrounding a bright, safe place, the Bad Places — which then become the Good Place, the bright, open future surrounding a dark, closed prison . . . Or vice versa.





Ursula K. Le Guin Explains How to Build a New Kind of Utopia





Dystopian literature may be hopeful, and utopian literature may present problems it doesn't imagine.
I have noted often that eco-fiction stories are not just frightening but may offer hope. Often we are the antagonist, but redemption transforms us into the protagonist. We can do good together, even in times of crisis. Despite the dismal forecast for how climate change will continue to affect us and all other species on the planet, the strongest stories seem to happen when we "feed the good wolf" — when we look up, face our mistakes, apologize for them, and fix them … when we do what's right. And what's right, in this case, is also becoming what's cool!
The concept of solarpunk is also a positive for literature; it's not just a fiction genre but a hopeful aesthetic. I interviewed one of its stewards, Adam Flynn, who said:
"As billions of people in the developing world begin the rise out of poverty, they are looking for a vision of the 'good life', and unfortunately the current vision tends to involve fast food, large cars, big houses, and conspicuous consumption. Sustainability at scale means renewable energy, reusable infrastructure, an end to throwaway culture, room for human dignity, and the possibility for continued flourishing (although perhaps in different ways than how we define it currently)."
'Wilder, more reckless, more breathtaking'
Ecologically oriented fiction is growing, and it's entirely organic. Nobody says "hey, here's a cool genre — write in it!" That's not how fiction works. What is happening is that people naturally worry about the state of our world, and our future — just like people have been doing from the beginning of time — and some people tell stories about these things. When these things include an exploration of ecological systems around us, and how we relate to them, eco-literature is born and also is evolving with the shaky times. Running eco-fiction.com, I have built a database of books posted at the site, and while it is not exhaustive, almost 600 books are listed. The project is nearing its fifth birthday (on August 13th, 2018), and it's evident that the number of fiction writers who fashion tales from stark realities is growing. This site has turned into a lifetime project, and in continuing with this study, I have grown fond of the diversity of storytelling within eco-fiction — it's the most important thing to me, because the authors are all unique with their life experiences. They draw from different places, languages, and cultures, enriching this body of literature with fresh voices.
I always think back on Wai Chee Dimock's words on how eco-fiction is evolving: wilder, more reckless, more breathtaking. This description is so apt. Authors are writing, and thus also documenting, the story of how humans evolve in what seems to be a mass extinction. The Holocene extinction, otherwise referred to as the Sixth extinction or Anthropocene extinction, is the ongoing extinction event of species during the present Holocene epoch, mainly as a result of human activity. Various modes of literature place ourselves in this epoch, which is full of sorrow, ghosts, dwindling biodiversity, plastic oceans, and death. It's also full of embracing the wild within us. I chatted with the wise poet Lorna Crozier, who remarked:
"If we're lucky enough to get into the wilderness, our bodies and our spirits crackle with life. Our legs on a trail feel stronger. They become animal again. Our sense of smell is honed. Raven speaks to us in one of the 200 dialects ornithologists have been able to measure. When a grizzly inhales my scent, I live for a moment inside his body, inside his mind. How can I not be changed? To get inside myself in a deep and meaningful way, where I might, if I'm lucky, find words to say what can't be said, I have to get outside. I have to be larger than myself. Rain-drenched, I have to breathe in the wolf, the grizzly, breathe in the wild beauty of the world. And I have to figure out what to do to protect it — to stop all those human things that are causing such harm. The most optimistic part of me hopes the poems are one small way to do that."
And the most optimistic part of me hopes that fiction will accomplish this.
Then there's Jeff VanderMeer's body of new weird fiction novels that are perfect examples of wild and breathtaking storytelling. I referenced his work in my three-part series at SFFWorld.com, Exploring the Ecological Weird. When I talked with Jeff about the Southern Reach Trilogy, he said:
"I've always explored weird real-life biology in my fiction, especially in the context of fungi, which often seems alien in its details. These are in a sense transitional forms, between animal and plant, that are incredibly complex and which we don't quite understand all of that complexity just yet. So often it's not that you go out to explore ecology through weird fiction, but that the weirdness of the real world suggests certain impulses in your fiction. The Southern Reach is just the most personal exploration, and thus the dark ecology content probably is more intense and more front-and-center. This is largely because the setting is highly personal — North Florida wilderness — and certain elements, like the (at the time) seemingly endless spiral of the Gulf Oil Spill that kind of took up residence in my subconscious."
As we walk along the heavy Fleet Streets of our time — as W B Yeats did in his day, thinking of The Lake Isle of Innisfree — it's not enough to dream about nine bean rows, linnet's wings, a bee-hive, and a small cabin made of wattles and clay; though there's nothing wrong with that, but we are on the global Fleet Street now, one that is being extinguished. Authors are telling our story, and in some way it's an old story, but in many ways it's a new one, now that the Anthropocene has been recognized.
*
The reason we went to Ireland is because my mother's relatives came from there long ago, and it was her dream to visit the country someday. Dad, unfortunately, had early onset Parkinson's disease, and he retired early and never was able to travel far. After he died, I relied on my mother more and more for her old mountain ways and advice (she grew up in the Appalachian hills with parents who lived off the land), and my husband and I wanted to take her on a lifelong dream trip to her ancestor's homeland, a place she had dreamed of visiting since a child.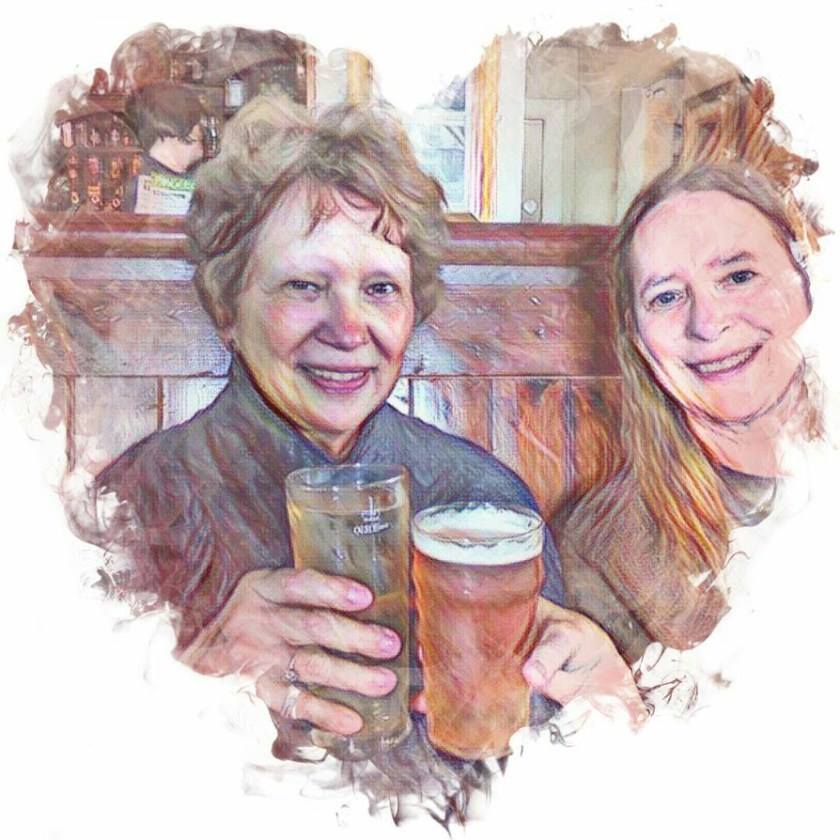 I still feel Ireland every day, though it's been two years since we visited. I see tiny orchids and Burnet's roses and mountain avens poking through rocks in the Burren and vast swamp and peat lands filled with rocky outcrops and hills. We climb one hill, and there's even a higher one. The further we go, our perspective of the Irish green patched land is wide-ranging, but we never can seem to reach the very top. It's somewhere up there. Our GPS gets confused and takes us down forgotten country lanes where abundant heather springs up around ruins of centuries-old cottages and barns. I see the big ocean swipe the rocky beaches below my run on the precipitous trail above the Cliffs of Moher, where tall grasses sway in the early June gales. I also feel cold winds slap my face on the boat to the same cliffs, where tens of thousands of seabirds nest in the rock shelves. At first, we didn't see anything but whitish vague shapes in the rocks, but the closer the boat got to the cliffs and the seastack, it became so clear: puffins, razorbills, guillemots, kittiwakes, gulls, and other birds everywhere. I see the blackness in Doolin Cave (Poll an Eidhneáin), home of the longest free-hanging stalactite in Europe. We stand next to its waxy looking body in the dim light set up in there, and feel ancient. Running down a country lane flanked by peat fields and bloody cranesvilles and stinging nettles, I feel like Gandalf will come along in his wagon at any moment. I hear the cottage shutters banging night after night from the strong North Atlantic winds. No matter where we go there are verdant fields and groves of trees and cows. What existed at one time still remains: ancient ruins of old forts and castles and farmhouses, along with dolmens, cairns, and other megaliths. It's a place where time is not linear, where the past transcends the present, where a faerie may take your hand and take you away to the waters and the wild. Much like the field of literature called eco-fiction.
***
You can read Part 1 of a History of Eco-fiction here.
---
Find out more
There's No Escape From Contamination Above the Toxic Sea, Wai Chee Dimock's review of Borne by Jeff VanderMeer, was published in The New York Times (5/5/17).
What the warming world needs now is art, sweet art by Bill McKibben, was published by Grist (22/4/05).
Ursula K. Le Guin Explains How to Build a New Kind of Utopia was published at Electric Lit (5/12/17).
You can find out more about the Holocene Extinction — also known as "the Sixth extinction or Anthropocene extinction … the ongoing extinction event of species during the present Holocene epoch, mainly as a result of human activity" — in this Wikipedia article.
You can also read author David Thorpe's ClimateCultures posts on utopian and dystopian fictions via his profile page in our Members Directory.
A fiction writer, researcher and curator of websites exploring ecology in fiction and providing ecoliterature resources for writers.